Case Study: Increasing Deposits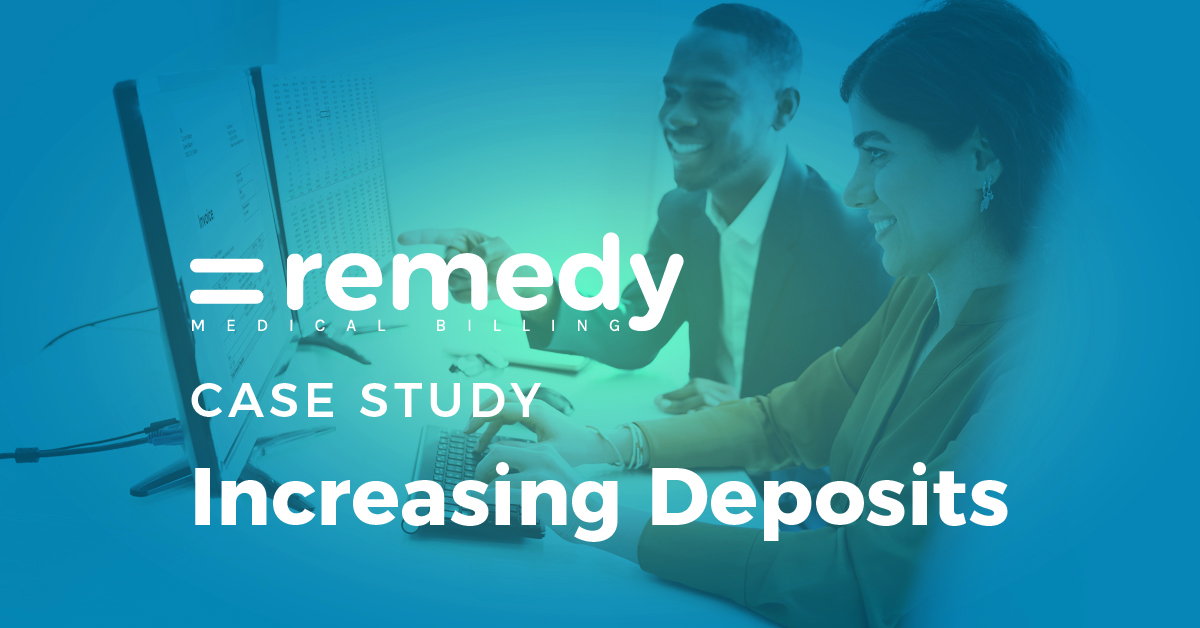 A CASE STUDY OF A CLIENT WHO EXPERIENCED THEIR DEPOSITS DOUBLING WITHIN FOUR MONTHS OF MAKING THE CHANGE TO REMEDY MEDICAL BILLING. THE FACILITY WAS A 6 BED INPATIENT TREATMENT CENTER.
In-Depth Analysis & Foundational Building
In the first 30 days we were able to complete a comprehensive facility analysis to identify areas of improvement. We discovered their authorizations for Detox and Residential services were significantly below our internal average, and they were struggling with their efforts to collect deductibles & co-insurance payments from their patients.
In the first 30 days we focused exclusively on insurance authorizations. We started with a complete revamp of their EMR utilization forms & started working with their clinical/medical leadership on insurance company medical necessity criteria, the benefits of ongoing assessments, and how to utilize the new concurrent review forms to increase the documentation without taking additional time away from their staff. Additionally, we reviewed and proposed modifications to their intake assessments to better align with current medical necessity guidelines.
Finding Missed Collections & Growth
Over the next 30 days, with authorizations already improving, we focused on their aged A/R. They were struggling with getting their data from their previous billing provider. We were able to get involved and assist with completing the data transfer of the Aged A/R from their previous billing company. What we found, after analyzing all of their open and paid claims, was there was a significant amount of under-payments, improper billing, and uncollected payments.
Over the next few months, we would collect 1.5 times their average monthly revenue just from the previous 12 month's outstanding claims.
We immediately started working on correcting the errors & chasing down additional payments. Over the next few months, we would collect about 1.5 times their average monthly revenue just from the previous 12 month's outstanding claims.
Additionally, we provided insight and templates on alternative strategies for collecting patient deductibles/co-insurance payments from patients. In a matter of weeks, they were collecting record amounts of patient balances.
Deposits More Than Doubled
Over the first three months, their average Detox & Residential authorizations were up more than 30% which directly resulted in more billed charges per patient. They also saw total revenue increase approximately 15% just from patient collections. Lastly, the collections on their Aged A/R gave them an unanticipated cash windfall.
With billing up, monthly deposits increasing, and additional cash on hand from collections on their Aged A/R, they were able to successfully open a second location. As of this publication, their deposits have continued at record pace, in some months almost four times their previous average (even though their capacity only doubled).
Schedule a Demo
Want to see first hand what makes Remedy Medical Billing different? Schedule a live, half hour Demo today!